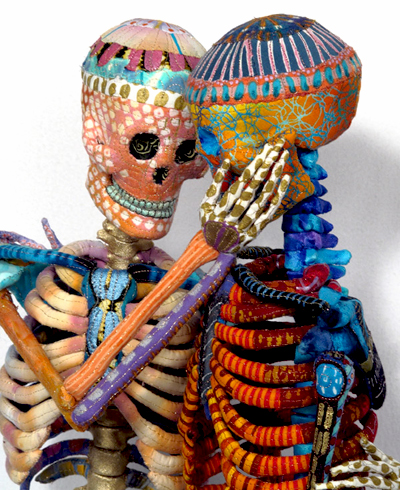 Susan Else creates sculpture out of collaged and quilted cloth, capturing the gamut of human emotions, routines, dreams, and realities in her work.
I am a figurative sculptor working in sewn cloth. I am interested in daily life and its instant mutability, and my best work merges conflicting human impulses into a single image. I describe my work as "stealth art": the comfortable ambiance of the medium draws viewers in, where they are confronted with the uncomfortable paradoxes of contemporary life. The power and beauty of the collaged and quilted surface play off the narrative content of the work, resulting in a seesaw of meanings and possibilities. My recent work often incorporates sound, light, and motors, and the installation Without a Net, now on tour, uses mechanized cloth sculptures to explore the contradictions of the old-fashioned circus and sideshow. Many of my pieces incorporate cloth-covered bones, a powerful symbol evoking both human mortality and human history. Bones can also be gestural, animating the inanimate.
I started this work in 1998, when I added 3D elements to a flat art quilt. I have shown nationally and internationally since then. My work is in public and private collections, and I have completed many commissioned pieces.
For additional information on pieces, to inquire about commissions and presentations, or to reach Susan, please send an email to: susan@susanelse.com.
Follow Susan on Instagram
Follow Susan on Facebook