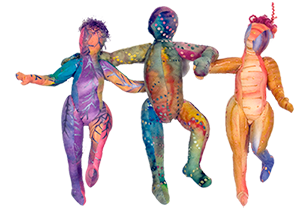 Although she will still be available for public lectures and private tutorials with individuals and small groups, Susan will be leaving the workshop circuit after 2017. Please contact her for if you are interested in setting up a tutorial; pricing varies with location, logistics, and number of students.
See her schedule for upcoming engagements.
Lecture - Off the Wall: Quilting in Three Dimensions
California artist Susan Else uses collaged and quilted fabric to create unusual sculpture. Ranging from wry comments on everyday life to wild imaginary scenes, her work adds a new dimension to the usual flat format of art quilts. Her engaging, vibrantly colored work includes free-standing figures as well as three-dimensional dioramas. Built around armatures of foam, wire, and fiberfill. Recent work often incorporates motion, lighting and sound.
In this lecture, Susan explores how sewn cloth differs from traditional sculptural materials such as clay and metal, and she describes her own metamorphosis from quilt-maker to sculptor. Although she never expected to become an artist herself, Susan grew up in a family of artists who shaped her personal vision. After "fooling around" with fabric and fiber for twenty years, she started making quilted sculpture in 1998. In addition to one-woman shows, she has participated in many travelling exhibitions, including Quilt National. Her work is in public and private collections throughout the U.S.
To schedule a workshop or lecture please contact Susan at susan@susanelse.com.